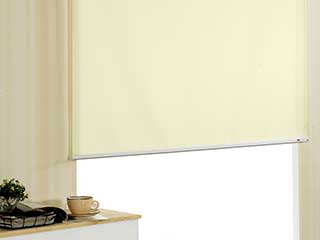 Many people choose to get new blinds to use them mostly as interior décor furnishing and a little as sunlight control measures. No surprise there. The range of designs you can choose for your window treatments can create a wide range of styles. But when you get blackout blinds, you get more than just an aesthetic addition to the room's décor. Fremont Blinds & Shade makes reliable room darkening covers for windows and glass doors, from quality materials that maintain appearances and usability for a long time. We happily provide free consultations to help folks around the bay area find the best blinds, blackout or otherwise, for their specific needs.
What Are Blackout Blinds?
Basically, the name is pretty self-explanatory. Blinds that create blackout conditions inside the room when closed fall under this category. Regular blinds tend to have some tiny gaps or silvers between their vanes even when closed all the way. That means that while they can darken the room significantly, they don't create total blackout conditions. Blackout blinds get manufactured and designed with overlapping vanes. Thus, they completely darken the room when the vanes close all the way and let no sunshine in from outside. The material used is opaque rather than semi-sheer, ensuring that sunlight doesn't filter through that way either.
Room Darkening Blinds With Remote Controls
Just like with other window treatments, wireless blinds can offer homes and offices tremendous benefits. Now take remote control method and pair it with a complete sunlight control feature, and you've got quite a bargain. Motorized blackout blinds can offer your Fremont residence or commercial space easy remote control that lets you have the final say over how much sunlight gets it. The blackout feature can block sunlight entirely, and the motorized blinds remote control method makes it so you can adjust the opening of the system without even setting foot in the room. Motorized blackout window treatments work for bedrooms especially well. These types of areas really require that you completely control how much sunlight gets through so that you don't compromise your sleep.
Venetian and Vertical Blackout Blinds Options
Whether you want the classic style of vanes (horizontal) or vertical blinds for large windows, the blackout feature stays available. Both types of blinds can be custom made to have overlapping vanes and create the room darkening conditions that made blackout blind so popular. It's important to take this option into account with areas in your Fremont business or home where sunlight exposure matters more. That means bedrooms, TV rooms, and any office with computer screens that need to avoid constant glare. Blackout blinds can add a lot of utility to these spaces, and the range of design options makes it easy to find something for your specific décor and budget.
Local Fremont Custom Blinds Source
Looking to improve your property with new window blinds or shades? The team at Fremont Blinds & Shade can help you (for free) with an in-person consultation and a subsequent estimate. Choose from a huge range of options to create custom blackout blinds that provide exactly the features you want for your Fremont office or home space. Set up a free estimate appointment anytime by scheduling a meeting online or calling our service line to book one.