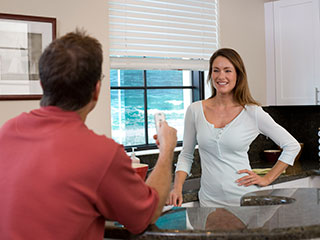 Choose automatic window coverings for versatility and innovative technology. With motorized blinds for windows, you can control how much sunlight enters your property without expending any effort whatsoever. Remote control blinds motorization features allow for smart Wi-Fi connectivity. Meaning, you can use your smartphone to control your motorized window blinds. This makes for a wonderful addition both in terms of style and convenience. Many homes and businesses all over the nearby area use our Fremont motorized blinds installers to improve both décor and utility in various rooms.
Electric Window Covering Solutions
Using electricity is such a common occurrence in our daily lives, we forget it's only been under a hundred and fifty years since it's been harnessed. And now, well, now you've got motorized blinds for your Fremont home or office windows. With the flick of a wall switch or the push of a button, you can cover your windows or expose them to sunlight. This control over natural lighting allows for a lot of nuances when it comes to using the sun for indoor illumination and creating ambiance. Motorized blinds provide the perfect automatic window covering solution for comfort and high-tech décor.
Power Sources For Motorized Window Blinds
Besides the regular wired blinds route, you have other options to explore. Motorized blinds with battery power can work regardless of the rest of the property's electrical network. That means that if the power goes out for some reason, the motorized blinds on your windows will keep on functioning. Battery-powered blinds offer a quick and simple installation. Though, some may find them less aesthetic given the battery pack. But there's another option besides wired and wireless motorized blinds. It's a far greener solution that is rapidly growing in trend.
Solar-Powered Window Blinds Motorized
That's right. You read it correctly. You can take energy from sunlight and transform it into the main power that drives your window blinds. This almost ironic twist on things makes solar-powered window blinds hugely popular for their low carbon footprint. After all, you're not using electricity, you're using energy from the sun. This excellent solution comes with a heftier price tag, naturally. Installation can take longer than its counterparts too. But the excellent track record of motorized blinds with solar power speaks for itself. You can use this setup for as long as there's sun in the sky. And with chargeable batteries or a combination with wired electrical connections, you can lower energy spending by quite a bit.
Motorized Blinds For Windows – Fremont, and Nearby
Our professionals operate all over the local area, offering customers the full service from start to finish. You can learn more about custom-made motorized blinds for home and business windows by scheduling a free estimate with our consultants. Talk to our design experts to find motorized blinds with the look and features that offer you the best results. With a commitment to complete customer satisfaction, and US-based manufacturing, our motorized blinds installation services offer the full package. Get started by calling us and booking a free consultation appointment!