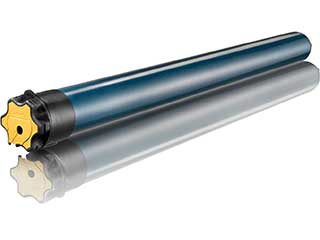 Somfy blinds are among the best options when it comes to automatic window coverings. Remote control motorized wireless shading solutions add sunlight diffusion and improved climate control for your interior areas. The selection of designs and impressive technology built into all Somfy window coverings are now synonymous with the best motorized blinds and shades the market has to offer. In the Fremont area, our Somfy blinds installers custom-build window coverings and exterior shades in all sizes and designs, at the best prices and highest quality.
Large Window Rolling Shutter Solutions
The go-to choice for window walls in residential properties or office spaces, rolling window shutters offer a trusted, comforting solution. Motorized rolling shutters take nothing more than a press of a switch or button to operate. Silent motors ensure that there's no disruption when opening, closing, or adjusting the shutters, perfect for early morning starts or late finishes. Thanks to the heavy-duty materials used, rolling shutters are also very resilient and offer great security.
Motorized Window Shades and Blinds
Cross time-tested classics like Venetian blinds and Roman shades with modern remote control systems, and they're an ideal match for modern life. Somfy's voice command controls and wireless smartphone integration are becoming the new way to live your life. Focus less on keeping your home comfortable by choosing smart home systems and connecting them to your Somfy motorized window coverings. Add soft sheer roller shades to your Fremont property to add attractive ambiance from natural light, making your property feel that much more comfortable and cozy. Blackout blinds are a great choice if you want improved privacy or better sleeping conditions, and can easily be combined with top-of-the-line Somfy motorized controls. Stay in bed and open or close the blinds remotely with your new Somfy motorized blinds system.
Motorized Covers and Canopies for Patios
Looking to add a little protection from sunlight to your outdoor areas? Somfy has the solution that you need. Motorized awnings provide plenty of variety, just as rolling pergola screens will. Add these to your Fremont deck or patio, because Somfy motorized canopies are the perfect fit for any backyard. Protect yourself and your loved ones from UV rays, and get the best use out of your outdoor spaces with this amazing technology.
Fremont Area's Best Somfy Blinds
We're ready to help you pick out the best motorized shades for your property. Whether it's an office space, gym, apartment, or a full house, Somfy blinds and shades are perfect for properties across Fremont. Find the perfect time for a free, no-obligation consultation with our specialist team to learn more about these amazing motorized window covering systems.