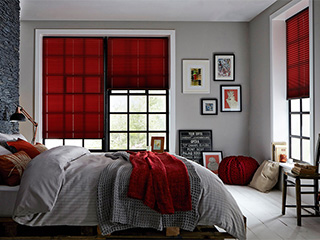 The most attractive and ornate window shades, Roman-style coverings can introduce elegance and elevate the décor of any Fremont property. And they are more affordable than you might think. We offer custom-designed, delivered, and professionally installed Roman shades as part of one easy service package! You can customize the colors, styles, and designs to complement your existing interior décor perfectly. Fremont Blinds & Shade specializes in delivering quality shading products, pleated, flat and in various other styles. Our window shading products include Roman shades for French doors, windows, and entire glass walls.
An Introduction To Roman Shades
So, what are Roman shades exactly? These fabric or fine bamboo window treatments fold up into pleated curves when you raise them open. The sheet is supported by a network of strings and supports to make it fold up at multiple points, creating that elegant ripple. You can find these window treatments anywhere, from grey Roman shades in low key lounges and hallways to richly colored ones in bedrooms and foyers. This style of window covering has been a top choice for decoration-minded home and business owners for centuries, and for good reason. No other type of shades or blinds has quite the palatial presentation of this style! Looking to add new custom made Roman shades to your Fremont home or office windows? Our service range covers all surrounding parts of the SF bay area, so we're happy to assist you with a free in-person consultation.
When You Should Choose Roman Shades
The one limit of Roman shades is that they take up some window space even while open since they fold across the top of the pane. This means that these treatments aren't for small or low windows that need their vertical space, but perfect for tall windows with space to spare. These windows are often found in hallways, living rooms, and bedrooms, or on French doors leading out onto decks and patios. That said, bathroom Roman shades are also popular, in houses whose bathrooms have tall enough windows. Roman shades for kitchens and dining rooms, likewise, are a great aesthetic bonus if the room has tall enough windows.
Customize Your Roman Window Coverings
Of course, not just any set of shades can go in any room in the house. Our Fremont design service includes pre-production appointments with our interior design experts. These professionals can help you pick the best color and style of shades for any room, and advise you on how to redecorate around them. On top of offering shades in every color of the rainbow, we can also embellish your new set with decorations, embroidery, or extra features. Would you perhaps be interested in relaxed Roman shades, with hanging middles and organic curves? Fremont Blinds & Shade can make them! Roman shades with curtains, valences, and trim are even more decorative. Choose what you want, and get your free quote before we begin work on your personalized shades!
Fremont Roman Shades, Motorized And Automatic
The dangling cords that most blinds and shades come with can be a hazard for children. If you have young kids or are planning to in the future, you can avoid this problem by choosing cordless motorized Roman shades. As well as their safety benefits, these remote-controlled Roman window coverings save you time and effort throughout your daily routine. If you're the type who tends to forget things like drawing the shades, getting a smart system can even save you money! We work with Somfy and Lutron products, allowing us to install motorized Roman shades that open and close on their own throughout the day. That way, your furniture, and wallpaper will be much safer.
Get Started With a Free Quote
Contact Fremont Blinds & Shade to schedule a free consultation at your local address. We'll arrange your initial appointment and show you the fantastic selection of Roman shades and other window coverings we can make for your Fremont business or home. Then, well get started making your custom window shading products. Once they're finished, we include delivery and installation as part of the initial quote. Go ahead and call us today to book your free consult & estimate!