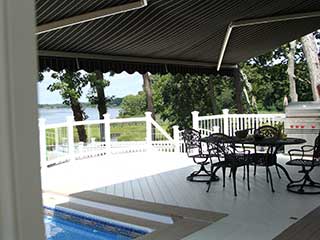 Shade is important not just on your windows, but outside as well. With patio covers, you get the benefit of enjoying the outdoor air without having to worry and suffer under a blazing sun. Motorized patio covers provide the convenience and comfort you deserve, with easy to control adjustment tools like a remote or smartphone connectivity. As the top Fremont patio cover installers in the area, we specialize in matching product to person via our free consultations.
Motorized Awnings For Deck Areas
Whether you're looking to add shade to the pool deck or an existing patio, motorized awnings deliver the best result for shading at different angles. With a tilted setup, awnings provide shade lower than a regular overhead cover. Our custom awnings motorized with smart controls give your Fremont patio a beautiful and highly functional addition.
Pergola Screens
Great both for privacy and for enhancing the protection from harsh sunlight, pergola screens can cover up the sides of the outdoor shade structure to ensure you're not seen or exposed to direct sunlight unless you want to. With smooth-rolling motorized pergola screens in different colors and designs, you can enrich the aesthetic of the outdoor space and control them with the push of a button.
Motorized Patio Shades For Fremont Yards & Porches
A simple overhead covering simply can't provide a fraction of the utility that motorized patio covers can offer. With precise measurements to ensure total protection, and different designs and motorization features you can choose, our custom made patio covers meet every customer's needs. Get advice from the leading motorized patio cover experts in the Fremont area by contacting us for a free estimate appointment.