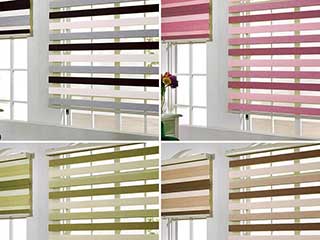 Brand-new, striking window treatments for your home don't need to cost a lot. You may already be aware that real wooden blinds, while beautiful, are both expensive and high-maintenance. Rather than let that deter your tastes, why not get the next best thing instead? Faux wood blinds bring the same look to your home, all while being more affordable and with no special requirements to deal with. If you want more information about general differences between real and faux wood, check out an explanation by our Fremont Blinds & Shade experts below:
Real and Faux Wood Blinds – What You Need to Know
Our professionals aren't here to tell you which type of wood treatments to get between real and faux timber. We only want to offer information about the pros and cons so you can make a knowledgeable decision! The main difference to be aware of is the amount of work required to keep wood window blinds in excellent condition over time. Cleaning them isn't as simple as wiping them off, it's necessary to use special cleaners to avoid blemishes or worse. They may also sustain harm due to moisture in the air. This can become an issue in areas with high humidity like kitchens and bathrooms. To prevent damage, repeated treatment of the wood is necessary. However, waterproof faux wood window blinds don't need any special treatment and are less expensive too.
Long-Lasting Fremont Faux Wood Window Blinds
Custom faux wood window treatments from our technicians will ensure that you're getting the best quality for your money. We use only the finest materials, of which you'll get to pick from when deciding on your new faux wood blinds. PVC and vinyl are both sturdy, but limber enough to keep from breaking easily. Our team will also choose the faux wood staining that will be a lovely match for the space, and create the look you've been dreaming of.
Best Blinds For Fremont Kitchens
Wood window treatments look naturally warm and pleasing in kitchens, but real wood can be a problematic pick. If anything gets on them, it'll be a hassle to clean and deal with, thanks to requiring more careful attention than most. Steam and other liquids are also liable to cause swelling, or even rotting over time as well. However, waterproof faux wood blinds don't have these issues! They can preserver through any splashes, and a wipe down will be enough for cleaning them.
Free Quotes For Blinds, Faux Wood or Other
The experts from Fremont Blinds & Shade love helping customers find the coverings that make the most sense for their taste and budget. Our custom-made faux wood treatments for windows are created especially for each individual part of your home or business. You won't find any gaps of sunlight coming from outside the frame of the blinds, because they'll fit the windowpane perfectly! That's the kind of excellent quality you can expect from our Fremont faux wood blinds and other covering options. To get started on getting the window coverings you and your property deserve, contact us. Schedule a free estimate appointment (plus a free consultation!) and see all the available options and designs.