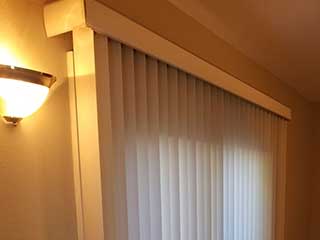 Longer frames such as window walls and French doors work best with vertical blinds. This makes these window treatments suitable for both residential and commercial properties. If you live anywhere around the Fremont area, you can have a custom set of vertical blinds made according to your budget and specific needs! Call Fremont Blinds & Shade and schedule a free consultation visit so we can design your new blinds and get started immediately. Our shading products are diverse, high quality, and affordable!
Where Do Vertical Blinds Go?
In general terms, you'll be better off getting vertical blinds for windows and glass doors that are wider than they are tall. The shorter the panels, the stronger, more durable, and easier to move the blinds will be. With most windows, that means crossing the pane lengthwise. For picture or wall-length windows, up and down is far more efficient. Vertical blinds are either mounted in a set of tracks just like a sliding door or hung from an overhead pole and supported by wheels. There's plenty of room for creativity and diverse construction within this category, and we do our best to give you the full run of options.
Office And Workplace Vertical Blinds
One advantage of vertical blinds, aside from them fitting some windows better than horizontal blinds would, is their sideways opening frame. You can choose to darken half of the room while letting sunlight stream into the rest. When it comes to office window vertical blinds, this means you can protect monitors, desks, and seating areas while keeping the room bright and airy. Customizing your set with a nice, businesslike gray vinyl or aluminum composition can also help build a professional atmosphere for your Fremont workplace.
Vertical Blinds For The Fremont Home
In addition to long windows, houses more often have patios, decks, and other access points with transparent doorways. Vertical blinds for sliding glass doors and the like offer the same selective protection for living rooms and kitchens that they do for offices. Choose some classy wood panels and install your vertical blinds with curtains of a complementary shade, and you'll make an aesthetic statement as well! When covering a doorway you can either have us install another set of tracks running along the sliding door's, or put the panels on wheels.
Try Some Advanced Motorized Blinds Options
Worried about moisture damage or other gradual wear and tear? Aluminum vanes are rustproof and stand up well to environmental corrosion in general (though not to sharp impacts). Want filtered light coming in between the vertical blinds when they're rotated open? Either put thin curtains over them or have us add a sheer fabric covering to the blinds themselves. For maximum convenience, you can also try our motorized vertical blinds. Controlling your window coverings with the push of a button or (better yet) the tick of a timer makes home management that much easier! Motorized vertical blinds can offer you simple and convenient remote control via Wi-Fi, smartphone apps & even Alexa and the Google Home systems.
Call To Schedule a Free Estimate
Before we get started on production, every customer gets a free consultation and quote, from an expert that comes to their home or office. Once we've finished putting your order together, we offer flexible vertical blinds installation scheduling throughout Fremont and nearby. If you're close to this part of the San Francisco area, give us a call for a free quote on vertical blinds for doors, windows & more! Let us show you how much we value customer satisfaction and affordable high-quality.