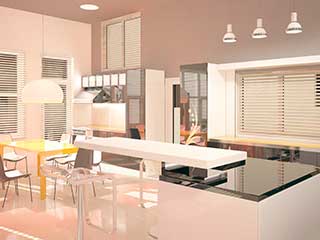 Blinds can add more than a sunlight control method. They can add privacy to the room, and even increase the thermal insulation. It's all about choosing the right type for your budget and needs. Whatever you're looking for in terms of window treatments, for just a single bedroom or a whole business, the Fremont Blinds & Shade team can help you take care of it. The famous Venetian blinds, which are excellent for both homes and businesses, can offer you a lot. They suit smaller windows and come in a range of materials to match different types of interior decor.
Blackout Venetian Blinds To Increase Privacy
For the finest Blackout Venetian window treatments around Fremont, come to us! We custom-make each set, so you can be certain there won't be any cracks where light may still shine through. If you work late shifts that require you to sleep during the day or want to take a nap in peace, blackout Venetian blinds are the best window covers for the job. They also help assure your privacy, as nobody will be able to see in through them either. Don't think that blackout blinds means you can only pick from one type of material! They're available in many different types to suit the room's aesthetic.
Fremont's Best Wood and Metal Venetian Blinds
If you want to wow visitors, or want a classy and beautiful aesthetic for yourself, wood Venetian blinds will certainly achieve that. They look gorgeous in home offices where they can match your desk, or in front rooms where your guests will be able to appreciate them fully. They do require upkeep to keep them looking sharp, but if you prefer a low maintenance substitute, we have faux wood Venetian coverings as well! We also have options for those looking for the most affordable option, such as metal Venetian blinds, or aluminum to hold up for a long time.
Simplicity With Motorized Venetian Blinds
Give the impression someone's always home to keep away unwanted visitors with motorized Venetian treatments! Use your smartphone or tablet to adjust them, thanks to their Wi-Fi capability. That means you can open or close your motorized Venetian blinds from wherever you are! Timer functions are also available, so they'll move on their own according to your schedule. This can also help you save energy by allowing you to close them when the sun pours indirectly to avoid your home heating up!
The Right Blinds for Your Fremont Windows
With our experts providing free consultation, you can customize Venetian blinds for your Fremont home or business very easily! Whether you like the sound of Venetian blinds, or what to know about the other styles of window treatments available, we're glad to assist you. We're the best to come to when it comes to low cost and high-quality blinds. So why wait? Give us a call today to get started with a free estimate at your residence or office.